Sausage Stuffing

Click to add
Sausage Stuffing
to your Favourites...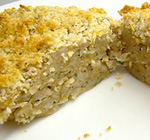 This method of making stuffing is far easier than the traditional practice of actually stuffing it inside a piece of meat. We cook the stuffing in a roasting tin, ensuring it gets evenly cooked and that it is easy to serve.
Ingredients
300g sausage meat (or minced/ground pork)
70g onion (½)
1 clove of garlic
50g roasted pine nuts
1 sprig of thyme
1 small sprig of rosemary
1 bunch of parsley
2 teaspoons of lemon zest
½ teaspoon of mixed spice
150g fresh breadcrumbs
Preparation Time: 10 minutes
Cooking Time: 30 minutes
Serves: 5 - 6
Method
Preheat the oven to 200°c.
Finely chop the onion and crush the garlic. Finely chop the thyme, rosemary and parsley. Roast the pine nuts by tossing them in a dry pan over a medium heat until they have mostly turned brown.
Mix everything together in a bowl, except for 3 tablespoons of breadcrumbs, and season with salt & pepper.
Grease a roasting tin with a little vegetable oil and then put the stuffing mixture in to a depth of 3cm.
Sprinkle the remaining breadcrumbs on top and put it into the oven for 30 minutes.
Remove from the oven, cut it into squares and serve.
Back to top

Useful Information
Can it be frozen? Yes.
Can it be prepared in advance? Yes, up to 3 day to stage 3.
Will leftovers be nice? Yes, for up to 3 days (if made and cooked on the same day).
Notes
- Stuffing is usually an accompaniment for roast meats such as roast chicken or pork.
- This is really just a method for making stuffing and the ingredients could be completely changed to suit your own tastes or the meal you are having (or even to whatever you happen to have in your cupboards). For example, a stuffing to accompany roast pork, could include sage and apple.

Recipe Options