Slow Cooked Sausages

Click to add
Slow Cooked Sausages
to your Favourites...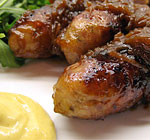 This method for cooking sausages does take quite a long time but the end result is rather stunning. When served with a healthy dollop of Dijon mustard, it's a marriage made in heaven.
Ingredients
3–4 sausages per person
3 tablespoons olive oil
Preparation Time: n/a
Cooking Time: 55 minutes
Serves: n/a
Method
Heat the oil in a frying pan over a medium heat, then put the sausages in and fry them on all sides for about 5 minutes, until they are turning brown.
Turn the heat down to very low, the fat in the pan should be only very gently bubbling around the sausages. Cook them like this for 50 minutes.
Serve. We served the sausages with onion relish, a rocket salad, a slice of fresh, crusty bread and a healthy dollop of mustard.
Back to top

Useful Information
Can it be frozen? No.
Can it be prepared in advance? No.
Will leftovers be nice? Yes, for up to 3 days if eaten cold.

Recipe Options