Sausage Rolls

Click to add
Sausage Rolls
to your Favourites...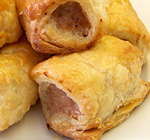 Makes a tasty snack, ideal for children's parties or as a light lunch.
Ingredients
160g sausage meat
200g shop-bought puff pastry
1 egg
Preparation Time: 15 minutes
Cooking Time: 20 minutes
Serves: 3
Method
Preheat the oven to 200°c.
Roll out the pastry to a thickness of about ½cm and cut it into strips about 12cm wide. Then beat the egg in a cup.
Season the sausage meat with salt & pepper and put a line of it down the middle of each pastry strip about 2cm- 3cm wide.
For each strip of pastry, fold one side of the pastry over the sausage meat, brush the other side of the pastry with the beaten egg and then roll the pastry-encased sausage side over onto the flap of pastry, gently pressing it down to seal in the sausage meat.
Cut each roll into pieces about 5cm long, brush each of them with the beaten egg and put them on a baking tray.
Put the baking tray into the oven for 20 minutes, until the pastry is a golden brown colour.
Remove from the oven and serve them warm.
Back to top

Useful Information
Can it be frozen? Yes.
Can it be prepared in advance? Yes, up to 1 day to stage 5.
Will leftovers be nice? Yes, for up to 3 days.
Notes
- Sausage rolls are best served warm but can be eaten cold. To reheat them, simply put them into a hot oven for 10 minutes.

Recipe Options