Chinese Pork

Click to add
Chinese Pork
to your Favourites...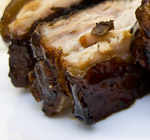 This simple and ludicrously delicious dish is rich, melting, sticky with caramelised honey and is wonderfully fragrant from the spice. Pork has never tasted so good.
Ingredients
1kg piece of pork belly, rind removed
3 teaspoons of chinese five spice
5g of salt
15g honey
15g tamarind paste
Preparation Time: 5 minutes
Cooking Time: 6 hours
Serves: 4
Method
Heat the oven to 120°c.
Rub the chinese five spice and salt into the meat really well all over.
Put the meat into a dish that it just fits and, if you can, fold the meat in half. This helps to protect the sides and underneath of meat (keeping it moist) while exposing the fat on top to the heat of the oven (drying and crisping it).
Put the dish into the oven for 6 hours.
Half an hour before the cooking time is up, mix the honey and tamarind together to form a glaze for the pork and then temporarily remove the pork from the oven.
Spoon half of the glaze over the pork and place it back into the oven for 15 minutes. Repeat this again with the other half of the glaze.
Remove the pork from the oven and allow it to rest for half an hour, occasionally baste the pork with the juices from the dish to glaze even more.
Slice it into thick pieces and serve. We served the pork with fragrant rice and a hot and crunchy salad of cucumber, green chili, spring onion, lime zest and juice. You can also drizzle any remaining juices from the dish over the pork.
Back to top

Useful Information
Can it be frozen? Yes.
Can it be prepared in advance? Yes, it can be rubbed with the spices 1 day in advance and kept in the fridge.
Will leftovers be nice? Yes, extremely nice... if there are any left.

Recipe Options