Oysters

Click to add
Oysters
to your Favourites...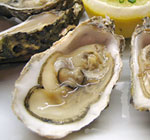 Oysters are probably one of our favourite types of bivalve molluscs to eat. They can be flavoured and cooked or just eaten raw with a dash of lemon juice. Either way they are really nice.
Ingredients
3–10 oysters per person
Some lemon
Preparation Time: 10 minutes
Cooking Time: n/a
Serves: n/a
Method
Using a cloth, hold the oyster with one hand so the hinge end is exposed. Using a shucking knife or butter knife, gently but firmly push it between the two shells.
Keep the knife flat with the top of the shell and push the blade right into the hinge.
Give the knife a sharp 90° angle twist to release the two shells.
Slide the blade flat across the top shell to release the oyster mussel attached to it, lift off the shell and discard.
Serve immediately. We chose to serve it quite simply with lemon and a few chives.
Back to top

Useful Information
Can it be frozen? No.
Can it be prepared in advance? No.
Will leftovers be nice? NO!!! Do NOT eat leftover oysters!!!
Notes
- As with any seafood, you must make sure the oysters are very fresh and they must still be alive.

Recipe Options