Crusted Mackerel

Click to add
Crusted Mackerel
to your Favourites...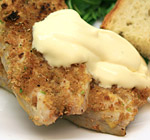 Mackerel is a wonderful fish with its oily texture and distinctive flavor and, when very fresh (which it should be), it smells of the sea. This is a simple recipe to compliment the fish and not distract from its pure and unique taste.
Ingredients
3 mackerel (6 fillets)
about 2 teaspoons of Dijon mustard

For the crust:

50g breadcrumbs
½ teaspoon salt
1 clove of garlic
Zest of 1 lemon
1 teaspoon chopped celery leaves, sorrel or parsley

For the sauce:

150g crème fraîche
20g Dijon mustard
Juice of half a lemon
Preparation Time: 10 minutes
Cooking Time: 3-5 minutes
Serves: 3
Method
Heat your grill to the "really very hot" setting.
Put all of the ingredients for the crust into a bowl.
Mix them together so that they are thoroughly mixed.
Put the mackerel fillets onto a chopping board and remove any bones using a pair of tweezers or electricians pliers (be sure to clean them first).
Smear some of the mustard onto each fillet.
Sprinkle the crust onto each mackerel fillet and very gently press it down (you want the crust to stick but you don't want to compress it).
Using a fish slice, carefully put the fillets onto a heavily oiled baking tray.
Put the mackerel underneath the grill for 3-5 minutes. While it is cooking, constantly keep checking the fish as the crust can burn very easily and very quickly.
Make the sauce by putting all the ingredients for the sauce into a bowl and stirring them together.
When the fish is ready, take it out from under the grill and serve it with the sauce.
Back to top

Useful Information
Can it be frozen? Yes, before you cook it at stage 7.
Can it be prepared in advance? No.
Will leftovers be nice? Yes, for up to 1 day if eaten cold.

Recipe Options