Fish Cakes

Click to add
Fish Cakes
to your Favourites...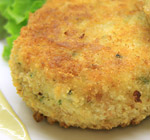 A man walks into a fish mongers with a salmon under his arm and asks the fish monger if he sells fish cakes, the man replies "Yes, of course sir". The man with the salmon under his arm says "That's good 'cos it's his birthday".
Ingredients
125g cooked white crab meat
125g cooked smoked fish (trout)
250g mashed potato
5g ginger
5g garlic
5g lemon grass
The zest of ½ a lemon
5g chilli (½)
pinch of cayenne pepper
5g coriander
½ teaspoon black onion seeds
½ teaspoon sesame seeds
1 beaten egg
some vegetable oil for frying

For the coating:

About 3 tablespoons of plain flour
2 beaten eggs
Dried breadcrumbs
Preparation Time: 1 hour 30 minutes
Cooking Time: 10 minutes
Serves: 6
Method
Peel and chop the potatoes and boil them in water until cooked. Then mash them and leave them to cool until they are completely cold.
Chop the ginger, chilli, lemon grass and coriander. Peel and finely chop the garlic.
Flake the crab and the smoked trout into a large mixing bowl.
Gently fry the garlic in olive oil for 1 minute, set to one side to cool.
Put all of the ingredients (except for the ingredients for the coating) into the mixing bowl with the fish and mix it all together so that it is evenly distributed.
Shape the mixture into round cakes, either by hand or by filling a pastry cutter. Then chill them in the fridge for at least an hour (they need to be firm enough to handle).
Heat the oven to 180°c.
Put the flour for the coating onto a plate, put the beaten egg into a dish and put the breadcrumbs onto another plate.
One at a time, carefully roll each of the fish cakes in the flour...
... then coat them in the the beaten eggs...
... and finally roll them in the breadcrumbs.
Heat the oil in a frying pan over a medium-high heat and then fry the fish cakes on both sides until thay are golden.
Transfer the fish cakes to a baking tray and put them into the oven for 6 minutes.
Remove the fish cakes from the oven and allow them to rest for 5 minutes before serving. We served them with a mixed leaf salad and mayonnaise mixed with lemon juice and 1 teaspoon of wasabi.
Back to top

Useful Information
Can it be frozen? Yes, after they have been breadcrumbed at stage 11.
Can it be prepared in advance? Yes, to stage 11 up to 1 day in advance.
Will leftovers be nice? Yes, for up to 2 days.

Recipe Options