Poached Pears

Click to add
Poached Pears
to your Favourites...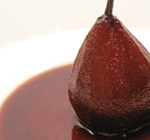 This is a recipe for a rich, spicy and very sweet dessert. This method of cooking fruit was originally used to preserve the fruit for a time when it was out of season. It has now evolved into this classic dessert but can also be kept in the traditional way, preserved in jars.
Ingredients
4 pears
1 stick of cinnamon
4 whole cloves
1 star anise
½ piece of mace or ½ teaspoon grated nutmeg
½ piece of stem ginger
250g caster sugar
50g runny honey
750ml red wine (1 bottle)
¼ lemon
Preparation Time: 15 minutes
Cooking Time: 50 minutes
Serves: 4
Method
Peel the pears and trim the bottoms with a knife so they stand flat, leaving the stalks on.
Place all the ingredients into a large saucepan except for the pears and bring it to the boil, stirring once or twice to dissolve the sugar. When it comes to the boil, skim off the foamy scum that rises to the surface with a ladel and discard.
Place the pears into the saucepan so that they are laying on their side. Bring this to the boil and then turn it down to a gentle simmer.
Put a piece of greaseproof paper on top of the surface of the liquid (this helps the liquid to bubble up over the pears, keeping the entire pear covered).
Poach the pears for 30 minutes. When they are cooked remove them from the wine mixture and put them on a plate, drain the wine through a sieve into another saucepan and boil the liquid until it has reduced by ¾ and is a velvety syrup (take care doing this as the syrup has a tendency to boil over very quickly if the heat is too high just at the point the telephone goes and you skip out of the kitchen to answer it, forgetting you ever started this small project).
When the wine has reduced to a syrup, place the pears back into the pan and coat them with the syrup, leave them in the pan until you need to serve them. (To reheat the pears, heat up the pan gently to just warm the pears through.)
Take the pears out and serve, on their own or with vanilla ice cream or just pouring cream.
Back to top

Useful Information
Can it be frozen? No.
Can it be prepared in advance? Yes, up to 2 days to stage 6.
Will leftovers be nice? Yes, for up to 2 days from the day it is made.

Recipe Options