Chocolate Sauce

Click to add
Chocolate Sauce
to your Favourites...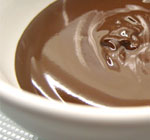 This fabulously rich sauce is perfect for ice creams, chocolate desserts and probably marvellous eaten on its own with a large wooden spoon for die hard chocoholics!
Ingredients
200g dark chocolate
2 tablespoons golden syrup
50g unsalted butter
Preparation Time: 5 minutes
Cooking Time: n/a
Serves: 3-4
Method
Break up the chocolate and put it into a heat-proof bowl.
Melt the chocolate either in the microwave on low power or above a saucepan of hot water over the lowest heat setting.
Add the golden syrup and the butter in small cubes.
Stir them in until the butter has melted and they are totally combined. The sauce should be runny, if not then just return it to the heat or microwave it for a few seconds until it has loosened.
Serve warm.
Back to top

Useful Information
Can it be frozen? No.
Can it be prepared in advance? Yes, it can be finished up to 3 days in advance and reheated via one of the methods in step 2.
Will leftovers be nice? Yes, for up to 3 days.

Recipe Options