Chocolate and Chestnut Torte

Click to add
Chocolate and Chestnut Torte
to your Favourites...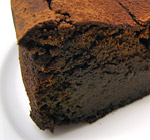 This velvety, mousse like cake is both very light and yet fudgy at the same time when fresh. It goes brilliantly with whipped double cream and soft fruits. Also, because this is a flourless cake, it is great for people with a wheat and/or gluten intolerance.
Ingredients
250g Dark chocolate
250g Soft unsalted butter
200g Pre-cooked chestnuts
50g Ground almonds
250ml Milk
4 eggs
150g Caster sugar
Preparation Time: 15 minutes
Cooking Time: 30 minutes
Serves: 8 - 10
Method
Heat the oven to 170°c.
Place the chestnuts into a saucepan with the milk and bring it up to a boil. When the milk begins to bubble, remove the pan from the heat and set aside.
Using a hand blender or food processor, blend the milk and chestnuts to a purée, don't worry if there are any lumps left.
Place the soft butter and caster sugar into a bowl and using a hand whisk or a stand mixer, beat the mixture until light and creamy.
Crack the eggs into a jug and slightly beat them with a folk to break them up. Pour the egg mixture a bit at a time into the butter mixture whilst beating to incorporate them. If they split this does not matter.
Melt the chocolate either in the microwave on low power or in a bowl over a pan of gently simmering water, then pour the melted chocolate and the chestnut purée into the creamed butter and egg mixture. Add in the ground almonds and mix it all together with a spatula so its smooth.
Grease a 25cm springform cake tin and line the bottom with greaseproof paper. Pour the cake batter into the tin and place it into the oven on a flat metal tray, bake for 30 minutes.
After the baking time, the cake will still be wobbly in the middle, this is fine. It will set when it has cooled and don't be alarmed when the middle collapses and cracks spectacularly, its supposed to. Leave the cake in the tin until it has completely cooled.
Serve, we suggest dusting the top of the torte with cocoa powder and serving with some whipped double cream on the side.
Back to top

Useful Information
Can it be frozen? Yes, for up to 1 month.
Can it be prepared in advance? Yes, it can be finished up to 3 days in advance.
Will leftovers be nice? Yes, for up to 1 week.

Recipe Options