Chocolate Mousse

Click to add
Chocolate Mousse
to your Favourites...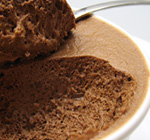 This is a wonderfully rich, quick and easy dessert that is guaranteed to please and can be highly useful as an emergency dessert.
Ingredients
2 egg yolks
4 egg whites
200g dark chocolate
60g caster sugar
1 teaspoon golden syrup
120ml double cream
25g unsalted butter
Preparation Time: 20 minutes (+ 2 hours for the mousse to set)
Cooking Time: N/A
Serves: 4
Method
Put about 2cm of water into a pan over a low heat, bring it up to a very gentle simmer, place a bowl larger than the pan on top of it (this is known as a Bain Marie) and put the chocolate, golden syrup and butter into the bowl.
Gently stir them until everything has melted and then turn off the heat.
Whisk the egg yolks and the cream together, take the bowl containing the chocolate mixture off the Bain Marie and gently stir in the cream and egg yolk mixture until they have combined.
Put the egg whites into a large bowl and whisk them with an electric hand whisk until they have reached the soft peak stage (when the whisk is taken out of the egg whites the peaks left by the whisk should be limp and rounded).
Pour the sugar into the egg whites and then continue to whisk them until they reach the stiff-peak stage (when the whisk is removed from the egg whites, the peaks left by the whisk should be pointed and firm.
Spoon about half of the whisked egg whites into the chocolate mixture and fold it in using a metal spoon or spatula until it is completely combined.
Add the rest of the egg whites and fold them in until they have completely combined (try not to beat the mixture as this will break the bubbles in the egg whites, resulting in a heavy mousse).
Either put the whole bowl into the fridge or pour the mixture into ramekins for individual portions and put them into the fridge.
Let the mousse set in the fridge for at least 2 hours before serving.
Back to top

Useful Information
Can it be frozen? No.
Can it be prepared in advance? Yes, it can be finished up to 3 days in advance.
Will leftovers be nice? Yes, for up to 3 days.

Recipe Options