Baked Cheesecake

Click to add
Baked Cheesecake
to your Favourites...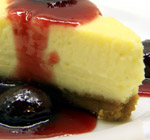 This baked cheesecake has a delightful creamy texture not dry and grainy like so many others. It goes stunningly well with a fruit compote or coulis.
Ingredients
For the filling:

500g cream cheese
200g caster sugar
4 eggs
300g double cream
1 vanilla pod

For the biscuit base:

200g digestive biscuits
100g butter
50g caster sugar

For the cherry compote:

300g cherries
40ml kirsch
150g caster sugar
Preparation Time: 10 minutes
Cooking Time: 30 minutes and 10 minutes
Serves: 8 - 12
Method
Heat the oven to 150°c.
In the bowl of your food processor, place the broken up digestive biscuits.
Blend until the majority of biscuit lumps are no longer visible. Add the sugar and whizz it up to incorporate them.
Melt the butter, then as the machine is running, pour the butter onto the biscuit crumbs. Blend it for 30 seconds or until it resembles wet sand.
Line a 20cm or 25cm cake tin with baking parchment. Tip the biscuit crumb into the base of the tin and level it out evenly, taking care not to press it down too firmly. Put the tin to one side as you make the cream cheese filling.
In a large bowl, beat the cream cheese with the caster sugar using a whisk until it is smooth and lump free.
Add the double cream, eggs and vanilla and stir it all together.
Pour the filling into the cake tin on top of the biscuit crumb base.
Bake the cheese cake in the oven for 30 minutes, there should still be a slight wobble in the centre. Remove the cheese cake from the oven and let it cool to room temperature, then place it into the fridge to firm up.
To make the cherry compote, place ¾ of the cherry halves, the caster sugar and Kirsch into a medium saucepan and heat it gently until it is bubbling.
Cook it on a low temperature for 10 minutes, then remove the pan from the heat and let it cool.
While the compote is cooling add the remaining cherry halves to it. They will cook ever so slightly but will keep their shape which adds to the presentation of the finished dish.
Cut a slice of the cheese cake and serve with the cherry compote.
Back to top

Useful Information
Can it be frozen? Yes, for up to 1 month.
Can it be prepared in advance? Yes,it can be finished up to 3 days in advance.
Will leftovers be nice? Yes, for up to 3 days.
Notes
- If you want a relatively flat cheese cake then go for a 25cm cake tin (as we did). If you prefer it taller then use a 20cm cake tin and give it 45 minutes in the oven. Ideally, you should use a spring form cake tin for easy removal of the cheese cake.

Recipe Options