Apple Tart Tatin

Click to add
Apple Tart Tatin
to your Favourites...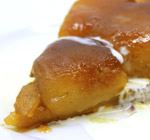 This tart was, apparently, accidentally invented in the Hotel Tatin, Northen France in 1889. While the exact details of its invention are debatable, the gist of it goes that the chef, Stéphanie Tatin, was trying to make a regular apple tart and cocked it up, but served it regardless to much appreciative guests. However it was invented, the tart is a simple and delicious timeless classic.
Ingredients
900g apples (6)
200g caster sugar
60ml water
20g unsalted butter
250g shop-bought puff pastry
Preparation Time: 20 minutes
Cooking Time: 50 minutes
Serves: 6
Method
Heat the oven to 200°c
Weigh the sugar and water into a saucepan, then put the pan over a medium heat and cook the sugar until it has dissolved and turned clear. Then turn the heat up to high and cook it until it has become a golden brown colour and smells like caramel.
Pour the caramel into the 20cm pie tin you will be cooking the apples in and leave it to one side.
Peel and core the apples.
Place the apples in the tin, cut-side up, you may need to quarter some of the halves so they fit snug into the center of the tin. Cut the butter into small cubes and scatter it over the apples.
Place the tin into the oven for 20 minutes. Depending on how much liquid the apples extrude from their cooking you might have to remove some if it is swimming in it (about 1cm depth is good).
Roll the puff pastry to a thickness of 5mm and cut out a disc slightly bigger than the tin. Prick it all over with a fork.
Place the puff pastry disc over the apples in the tin and tuck in the edges.
Put it in to the oven and bake it for 30 minutes, until the pastry is golden brown and crispy.
When the tart comes out of the oven, give it a minute to settle and then carefully turn it out onto a serving plate, making sure not you don't spill any of the hot caramel over yourself.
Serve. We served it with fresh double cream, but vanilla ice cream goes very well too.
Back to top

Useful Information
Can it be frozen? Yes, up to 1 month.
Can it be prepared in advance? Yes, it can be finished up to 1 week in advance.
Will leftovers be nice? Yes, for up to 1 week.
Notes
- Some people will tell you to sprinkle lemon juice over the apples in stage 4 to prevent them from going brown, however, there is no need to bother as they are going to turn brown anyway.
- You could try this tart with apricots, pears, plums and just about any firm fleshed fruit (softer fruits, like plums and apricots, do not need the pre-cooking in the oven in step 5).

Recipe Options