Scones

Click to add
Scones
to your Favourites...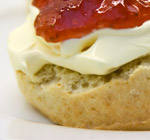 Whether you pronounce them "scones" or "scones", they are the quintessential English tea time treat. While fairly unassuming and, frankly, a little dull on their own, the humble scone can be transformed into a thing of great beauty and wonder by the simple addition of a little cream and some jam... although, of course, adding a lot of cream makes them even better.
Ingredients
340g plain flour
10g baking powder
50g caster sugar
75g unsalted butter
150g milk
1 large egg
Preparation Time: 25 minutes
Cooking Time: 15 minutes
Serves: About 12 scones (depending on the size of your pastry cutter)
Method
Heat the oven to 170°c.
Weigh the flour and butter into a bowl.
Using your fingers, rub the ingredients together until they form a texture like breadcrumbs.
Add in the sugar and baking powder and mix it together.
Add in the milk and egg and stir it together until it is all thoroughly incorporated.
Tip it out onto a floured work surface and knead it together until it has become smooth, then let it rest for 10 minutes.
Lightly roll the dough out to a thickness of about 2cm.
Cut out the scones by putting a pastry cutter (the one we used was a 4cm pastry cutter) on top of the dough and quickly slamming the cutter into the dough (the idea is to make a quick cut so they retain their shape). Once cut out, put them onto a baking tray lined with greaseproof paper or non-stick matting.
Mix the egg yolk with the 1 teaspoon of water and brush the resulting eggwash over the tops of the scones using a pastry brush.
Put the scones into the oven and bake them for 15 minutes.
Once they are cooked, remove them from the oven and put them on a wire rack to cool until they are just warm.
Cut them in half and serve however you like your scones (we prefer clotted cream and strawberry jam).
Back to top

Useful Information
Can it be frozen? Yes, the scones can be frozen once cooked.
Can it be prepared in advance? Yes, they can be finished up to 5 days in advance (see Notes).
Will leftovers be nice? Yes, for up to 5 days (see Notes).
Notes
- Scones are best eaten fresh from the oven (after they have been allowed to cool for a while). Scones over 1 day old tend to go a bit dry and stale but they can easily be revived to their former freshness by putting them into a hot oven for a few minutes until they have warmed through. (Of course, if you don't want to wait you can just cover them in so much cream that you won't notice their relative dryness...)

Recipe Options