Oat and Raisin Cookies

Click to add
Oat and Raisin Cookies
to your Favourites...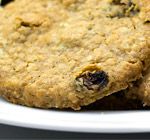 These classic biscuits are light and crisp with a lovely, rich sweetness from the raisins, counterbalanced perfectly by the deep, earthy flavour of the oats.
Ingredients
90g brown sugar
100g caster sugar
110g unsalted butter
170g plain flour
150g rolled oats
130g raisins
1 egg
½ teaspoon cinnamon
5g baking powder
5g salt
Preparation Time: 25 minutes
Cooking Time: 15 minutes
Serves: We made 37 biscuits
Method
Heat the oven to 170°c.
Put the brown sugar, caster sugar and butter into a mixing bowl and whisk them together until it has become smooth.
Add all the rest of the ingredients into the bowl with the butter and sugar mixture.
Mix everything together so that it is all evenly distributed. Then shape it into a ball with your hands.
Lightly flour your work surface and then roll out the ball of cookie dough to a thickness of about 4mm.
Using a cookie cutter, cut out the cookies and put them onto a non-stick baking tray (or one lined with greaseproof paper or, as we did, use an oven-proof non-stick mat).
Put the cookies into the 170°c oven and bake them for 15 minutes.
When they are cooked, remove them from the oven and leave them to cool on the baking tray for 3 minutes or so before putting them on a wire rack and allow them to cool to room temperature.
And serve.
Back to top

Useful Information
Can it be frozen? Yes, the raw cookie dough can be frozen before rolling it out (stage 4).
Can it be prepared in advance? Yes, they can be finished up to 7 days in advance.
Will leftovers be nice? Yes, for about 7 days if kept in an air-tight container.

Recipe Options