Blueberry Muffins

Click to add
Blueberry Muffins
to your Favourites...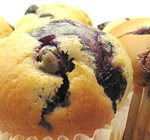 After hours of industrial testing and research, this simple blueberry muffin recipe produces a classic, moist and light muffin that is perfect as a snack or breakfast.
Ingredients
200g plain flour
200g caster sugar
20g baking powder
5g salt
100ml vegetable oil
200ml milk
4 eggs
200g blueberries
Preparation Time: 20 minutes
Cooking Time: 30 minutes
Serves: about 10 muffins
Method
Heat the oven to 170°c.
Put the flour, sugar, baking powder and salt into a bowl and stir them together until they are thoroughly mixed.

Put the oil, water and egg into another bowl and whisk together so its frothy.

Pour the wet ingredients into the dry and quickly mix them together making sure you don't over mix it (a few lumps are okay).

Fold the blueberries into the batter and leave it for 10 minutes.

Line a muffin tray with paper cases (if you don't have any then make sure the muffin tray is very very non-stick, the muffins will stay moist for longer if they are in cases). Fill the cases nearly to the top with the muffin batter making sure each one has a good amount of fruit in it.

Put the tray into the oven and bake them for 30 – 35 minutes, until they are a light golden brown colour. To make sure they are properly cooked, push a cocktail stick into the middle of a muffin and then remove it; if the cocktail stick comes out with liquid batter on it, the muffins will need longer in the oven.
When the muffins are cooked, remove them from the oven and allow them to cool in the muffin tray
When they are at room temperature they are ready to eat.

Back to top

Useful Information
Can it be frozen? Yes, for up to 1 month.
Can it be prepared in advance? Yes, to stage 4 up to 1 week in advance.
Will leftovers be nice? Yes, for up to 3 days (if kept in an airtight container).

Recipe Options