Ginger Cake

Click to add
Ginger Cake
to your Favourites...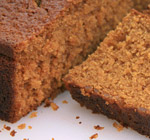 This is a variation of the classic ginger cake. It contains finely chopped pieces of crystallised ginger and plenty of spice that radiates a warmth inside when you eat it.
Ingredients
125g unsalted butter
200g golden syrup
50g ginger syrup
160g muscavado sugar
3 eggs
200ml milk
250g self raising flour
2 teaspoons baking powder
2 teaspoons ground ginger
1 teaspoons cinnamon
pinch of salt
3 pieces of crystallised ginger, finely chopped
Preparation Time: 20 minutes
Cooking Time: 40 minutes
Serves: 15 - 20
Method
Put the butter, sugar, ginger syrup and golden syrup into a saucepan and, over a low heat, melt everything together until smooth. Remove the pan from the heat and leave to cool.
Heat the oven to 170°c.
Place the eggs and milk into a bowl and whisk them together.
Weigh out the flour, salt, baking powder, ground ginger and cinnamon into another bowl and stir together so the baking powder is evenly distributed throughout the flour.
Tip the flour mixture onto the eggs and milk and fold them together gently so it is smooth without any lumps of flour.
Pour the melted butter mixture into the batter and whisk it in until it forms a foamy, liquid mass without any lumps of flour. Then stir in the finely chopped crystallised ginger.
Pour the cake batter into a tin lined with greaseproof paper.
Put the tin into the oven and bake it for 40 minutes.
To test if the cake is done insert a skewer into the middle and if it comes out clean the cake is ready.
When the cake is cooked, remove it from the oven and allow it to cool completely to room temperature in the tin.
When the cake is cold, take it out of the tin, slice it and serve.
Back to top

Useful Information
Can it be frozen? Yes.
Can it be prepared in advance? Yes, it can be finished up to 1 week in advance.
Will leftovers be nice? Yes, for up to 1 week.
Notes
- For that extra little bit of indulgence, try spreading some soft salted butter onto a slice and enjoying with your favourite cup of tea. Mmmmm, naughty...

Recipe Options