Cup Cakes

Click to add
Cup Cakes
to your Favourites...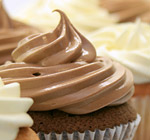 These little cake are great for kids parties, weddings and just for the hell of it! Try any flavour you like with any topping you fancy, there is so much scope for imagination with these cakes.
Ingredients
For the cake batter:

250g self-raising flour
250g caster sugar
250g unsalted butter
4 whole eggs
A pinch of salt
1 teaspoon of baking powder

Optionally, for chocolate cup cakes:

30g cocoa powder
1 tablespoon of water



For the butter icing:

250g unsalted butter
250g icing sugar
1 teaspoon vanilla extract or vanilla paste or (if you must) vanilla essence
2 tablespoons of hot water

Optionally, for chocolate butter icing:

200g dark chocolate
100g double cream
Preparation Time: 30 minutes
Cooking Time: 20 minutes
Serves: 10-15
Method
Heat the oven to 180°c.
Measure all of the ingredients for the cake batter into a large mixing bowl.
Using a whisk, mix it all together until it has formed a smooth cake batter with no lumps.
If you want to make chocolate cup cakes as well, transfer half of the batter to another mixing bowl and stir in the cocoa powder and water.
Pour, spoon or pipe the cake batter into cup cake cases in a muffin tin, until each cup cake case is two-thirds full.
Put the muffin tin into the oven and bake them for 20 minutes.
When they are cooked, take them out of the oven and allow them to completely cool to room temperature before icing them (if they are not completely cooled the icing will melt).
We chose to ice the cup cakes with a butter cream icing but you can use any icing you like.
To make the butter cream icing, put the soft butter, sieved icing sugar, vanilla extract and about 2 tablespoons of hot water into a large mixing bowl.
Using an electric whisk or other stirring device, whisk them up until it has become smooth and light in colour.
If you want to make chocolate butter cream icing, break up the chocolate into a mixing bowl, then put the cream into a small saucepan over a medium heat. When the cream begins to bubble, take it off the heat and pour it over the chocolate.
Stir the chocolate and cream together until all of the chocolate has melted. Allow the chocolate mixture to completely cool before putting in about a third of the plain vanilla butter icing.
Stir them together until they are completely mixed and smooth.
We piped the icing onto the cup cakes but you can just pile it on top of them using a palette knife or butter knife.
And serve.
Back to top

Useful Information
Can it be frozen? Yes, at stage 7 (i.e. without the icing).
Can it be prepared in advance? Yes, they can be finished up to 5 days in advance and kept in the fridge in an air tight container.
Will leftovers be nice? Yes, for up to 5 days.
Notes
-Cup cakes can be decorated anyway you want, your imagination is your only limitation!
(We should point out that the simple decoration we have used in no way suggests that we have limited imaginations, we chose the simple decoration for clarity's sake and, in fact, we are just now putting the finishing touches to a batch of cup cakes each decorated with an exact replica of Michelangelo's "David" carved out of butter icing).

Recipe Options