Chocolate Chip Cookies

Click to add
Chocolate Chip Cookies
to your Favourites...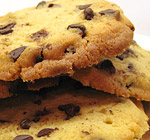 This simple recipe is easy to make and produces a light, crunchy cookie with a great buttery flavour.
Ingredients
300g plain flour
160g caster sugar
2 whole eggs
250g unsalted butter
5g baking powder
5g salt
200g chocolate chips
Preparation Time: 10 minutes (+ 1 hour chilling)
Cooking Time: 20 minutes
Serves: about 25 cookies
Method
Put everything except for the chocolate chips into a large mixing bowl.

Mix them together until they are thoroughly combined and have formed a dough. Then put in the chocolate chips.

Mix in the chocolate chips, making sure that they are evenly distributed throughout the dough.

Lay out a large piece of cling-film/plastic-wrap on your work surface and then, down the middle of it, make a line of dough roughly 5cm in diameter.

Tightly roll up the dough to form a sausage, then tie each end and put it into the fridge for 1 hour to firm.

When the dough is firm, heat the oven to 170°c.
Remove the dough from the fridge and, while it is still wrapped in the cling-film/plastic-wrap, cut it into slices about 1cm – 1½cm thick (the cling-film/plastic-wrap makes it easier to cut).

Peel the cling-film/plastic-wrap off each cookie and put them onto a baking tray lined with greaseproof paper or a silicon mat. Space them about 10cm apart because they will spread in the oven.

Put them into the oven and bake for 20 minutes.
Remove the cookies from the oven, allow them to rest for about 5 minutes before transferring them to a wire rack to cool.

Back to top

Useful Information
Can it be frozen? Yes, but only the raw cookie dough at stage 5.
Can it be prepared in advance? Yes, it can be finished up to 1 week in advance.
Will leftovers be nice? Yes, for up to 1 week.
Notes
- Rolling the dough into a sausage and then cutting into rounds (as opposed to rolling it into balls with your hands) prevents the dough from becoming compressed and dense and istead results in a nice light crunchy cookie. It also helps to ensure that all the cookies look the same.

Recipe Options