Carrot Cake

Click to add
Carrot Cake
to your Favourites...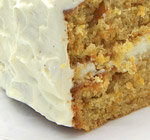 Carrot cake makes for a nice alternative to the classic vanilla sponge. It's light and moist with a delicate hint of spice and its flavour gets better and better as you whittle it down during the course of its short life.
Ingredients
For the carrot cake sponge:

250ml vegetable oil
175g caster sugar
50g light brown sugar
4 eggs
140g carrots (2)
1 teaspoon vanilla extract
225g self-raising flour
1 teaspoon baking powder
1½ teaspoon ground cinnamon
½ teaspoon ground ginger
A pinch of salt

For the cream cheese frosting:

300g cream cheese
100g soft butter
125g icing sugar
1 teaspoon vanilla extract
The juice of ½ a lemon
Preparation Time: 20 minutes
Cooking Time: 30 minutes
Serves: 8-10
Method
Heat the oven to 180°c.
Place the sugars, eggs, oil and vanilla into a bowl. Whisk them together so there are no lumps of sugar and it turns creamy.
Sieve the flour, salt, baking powder and spices into another bowl and using a dry whisk, mix them together.
Peel the carrots and then grate them.
Pour the egg, oil and sugar mixture into the dry ingredients and then mix them together so there are no lumps. Then stir in the carrot.
Grease and line two 20cm sandwich cake tins with greaseproof paper. Pour the cake batter evenly into both the tins.
Put the tins into the middle part of the oven and bake them for 30 minutes so they feel firm when touched on top and do not wobble in the middle.
Remove the cakes from the tins and cool them on a wire rack until they have reached room temperature.
Sieve the icing sugar into a bowl and add all the other icing ingredients.
Using a hand whisk or spoon beat the mixture until it is thick, light and creamy with no lumps remaining.
On your serving platter or cake stand or plate, place the first layer of cake. Spoon on about a third of the cream cheese frosting and spread it evenly over the top.
Put the second layer of carrot cake on top and spread a further third of the icing (half of what's left) over the top.
Using a pallet knife or butter knife, frost the sides of the cake with the remaining icing and either smooth it down or texture the surface as we did.
Serve.
Back to top

Useful Information
Can it be frozen? Yes, up to 1 month.
Can it be prepared in advance? Yes, it can be finished up to 3 days in advance.
Will leftovers be nice? Yes, for up to 1 week.
Notes
- Try this recipe as cupcakes. It works great for kids birthday parties and weddings too!

Recipe Options