Stroganoff

Click to add
Stroganoff
to your Favourites...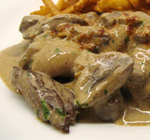 This classic dish originated in Russia. It is a creamy beef dish that relies on sour cream to balance the flavours and is surprisingly quick to cook.
Ingredients
520g beef fillet or sirloin
120ml soured cream
100g onion (1)
150g button mushrooms (10)
1 teaspoon paprika
small bunch of parsley
100ml white wine
200ml beef stock
7 tablespoons olive oil for frying
Preparation Time: 10 minutes
Cooking Time: 20 minutes
Serves: 4
Method
Peel and thinly slice the onion, slice the mushrooms and finely chop the parsley.
Slice the beef into strips.
Heat 2 tablespoons of the olive oil in a frying pan over a low - medium heat and then put in the onion. Fry the onion for about 5 - 10 minutes, until it has completely softened and turned translucent and slightly brown.
Transfer the onion to a plate or bowl, return the frying pan to the heat, turn up the heat to high, add in another 3 tablespoons of the olive oil and then put in the mushrooms.
Fry the mushrooms for 5-10 minutes, until they are cooked and are beginning to turn brown.
Transfer the mushrooms to the plate or bowl with the onions, then put the frying pan back on the heat, turn up the heat to high and add in the remaining 2 tablespoons of olive oil. Season the strips of beef with salt & pepper and put them into the pan (try not to overcrowd the pan with the beef, you may need to fry it in several batches).
Fry the beef for about 1 minute before transferring it to the plate with the mushrooms and onion (it is okay if some of the beef is still pink as it will continue to cook).
When all the beef has been fried, pour the white wine and beef stock into the frying pan and boil it for 5 minutes.
Add the beef, onions and mushrooms to the sauce, stir them in to reheat and then remove the pan from the heat.
Stir in the soured cream, paprika and parsley.
Serve. We served it with the traditional accompaniment matchstick chips (cooked in exactly the same way as chips but cut to about ½cm and only cooked the first time for 4 minutes).
Back to top

Useful Information
Can it be frozen? Yes.
Can it be prepared in advance? Yes, up to 1 hour to stage 8.
Will leftovers be nice? Yes, for up to 3 days.

Recipe Options