Steak Tartar

Click to add
Steak Tartar
to your Favourites...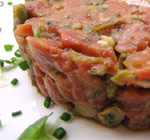 This somewhat infamous dish is delicious when prepared properly with the correct ingredients and, despite most preconceptions, doesn't actually taste of raw beef at all.
Ingredients
600g beef fillet
50g gherkins
50g capers
50g shallot
1 tablespoon of chopped parsley
3 egg yolks
7 drops of Tabasco
1½ teaspoons of Worchester Sauce
25g Ketchup
10g Mustard
1 teaspoon of lemon juice
Preparation Time: 15 minutes
Cooking Time: n/a
Serves: 4
Method
Finely chop the gherkins, capers, shallot and parsley. Finely dice the beef.
Put all of the ingredients into a large mixing bowl. Season it with salt & pepper.
Mix the ingredients together until they are thoroughly combined.
To make the typical, rounded shape, put a large pastry cutter on the plate, fill it with the mixture, remove the pastry cutter and serve. We served it with toasted bread, a sprinkling of mustard cress and chopped chives, and a large pinch of sea salt on the top.
Back to top

Useful Information
Can it be frozen? No.
Can it be prepared in advance? No.
Will leftovers be nice? Not really, see below.
Notes
- Any leftovers should not be eaten raw, however, for up to 2 days afterwards, it can be formed into burger patties, shallow fried until cooked all the way through and eaten as a burger.
- It is very important that you only use the freshest fillet of beef for this dish. If you don't use fillet it will be very chewy and if it isn't fresh, you could get food poisoning.

Recipe Options