Goulash

Click to add
Goulash
to your Favourites...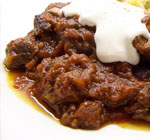 This is a traditional Hungarian beef dish, made with tomato, red pepper and perhaps most importantly, paprika, ideally smoked, which gives it a great colour and a deep, rich flavour.
Ingredients
700g braising beef
250g red bell peppers (3)
800g tinned tomatoes (2 tins)
220g onion (2)
2 cloves of garlic
3–4 teaspoons paprika (preferably smoked paprika)
150ml red wine
300ml beef stock
6 tablespoons of olive oil for frying
Preparation Time: 30 minutes
Cooking Time: 2–4 hours
Serves: 6
Method
Preheat the oven 180°c
Peel and slice the onion, deseed and slice the red peppers into strips, peel and finely chop the garlic, open the tins of tomatoes and cut the beef into bite sized cubes.
Heat 2 tablespoons of the olive oil in a frying pan over a medium heat. When it is hot, put in the onion and fry it for 4 minutes, until it has softened and is beginning to turn brown. Then add the garlic and fry it for a further 1 minute.
Transfer the onion and garlic to an oven proof dish with a lid (be sure to remove all traces of onion from the pan), then return the frying pan to the heat, add in another 2 tablespoon of the olive oil and put in the red pepper.
Fry the red pepper for about 5 minutes until it has also softened and is beginning to turn brown at the edges.
Transfer the red pepper to the same dish as the onion, add the remaining 2 tablespoons of olive oil to the frying pan, season the cubes of beef with salt & pepper and put them into the frying pan (try not to overcrowd the pan with the beef, you may need to fry it in several batches).
Fry the beef on all sides until it has turned brown, before transferring it to the over proof dish with the onion and red peppers.
Return the frying pan to the heat, pour the red wine into the pan and scrape off any stuck on goodness from the bottom of the pan. Then, when the red wine has come up to the boil, pour it into the oven proof dish.
Add the beef stock, tomatoes and paprika, season it with salt & pepper and stir everything together.
Put the lid onto the dish and put it into the oven for at least 2 hours (3 or 4 hours is better).
Remove the dish from the oven and serve. We served it with mashed potato and a blob of sour cream.
Back to top

Useful Information
Can it be frozen? Yes.
Can it be prepared in advance? Yes, it can be finished up to 3 days in advance.
Will leftovers be nice? Yes, for up to 3 days.

Recipe Options