Cottage Pie

Click to add
Cottage Pie
to your Favourites...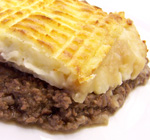 This comforting dish traditionally uses up the leftovers from a Sunday roast (the meat, vegetables, potatoes and gravy) and makes the perfect weekday supper dish.
Ingredients
650g cooked beef
170g onion (1½)
110g celery (2 sticks)
150g mushrooms (6)
2 cloves of garlic
250ml red wine
500ml beef stock (or use a stock cube)
2 tablespoons of beef demi-glace (or 1 tablespoon of gravy granules)
2 tablespoons of olive oil
1kg mashed potato
Preparation Time: (15 minutes for the mashed potato) + 25 minutes
Cooking Time: 20 minutes
Serves: 5-6
Method
Make the mashed potato.
Peel the onion and garlic, roughly chop them with the celery, then put them into a food processor and blitz it for 10 seconds, before transfering the mixture to a plate.
Roughly chop the beef and put that in the food processor for 15 seconds. Dice the mushrooms.
Heat the oil in a saucepan over a medium heat, put in the mushrooms and cook them until they have softened and are beginning to turn brown. Then add the vegetable mixture and cook this until it has become soft (about 7 minutes).
Add the wine and simmer until it has reduced by half.
Heat the oven to 200°c.
Add the stock, bring it up to the boil and then add the beef and cook it for 10 minutes.
Stir in the demi-glace (or gravy granules), season with salt & pepper and then carefully pour the mixture into an oven-proof dish.
Cover the beef mixture with the mashed potato by first putting spoonfuls around the edge of the dish and then filling in the middle. Smooth the surface of the mashed potato with a knife and then lightly drag a fork across to form a ridged pattern.
Put the dish on a tray (in case it bubbles over) and put it into the oven for 20 minutes (if the top isn't browned enough, put the dish under the grill for a few minutes).
Remove it from the oven and serve.
Back to top

Useful Information
Can it be frozen? Yes.
Can it be prepared in advance? Yes, up to 3 days to stage 10 (add 20 minutes to the cooking time in stage 11).
Will leftovers be nice? Yes, for up to 3 days.
Notes
- You can use raw minced beef instead of cooked beef, just fry it first until it has turned brown, drain off the fat and then continue with stage 1.
- A certain, big-name brand of tomato ketchup goes very well with this dish.

Recipe Options