Beef Burgers

Click to add
Beef Burgers
to your Favourites...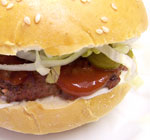 "These are some tasty burgers", to misquote that famous phrase. But they are very tasty...
Ingredients
500g ground/minced beef (20% fat)
500g ground/minced lean beef (10% fat)
130g onion (1)
1 clove of garlic
1 tablespoon of chopped parsley
1 whole egg
2 teaspoons of Dijon mustard
2 teaspoons of creamed horseradish sauce
Preparation Time: 30 minutes
Cooking Time: 6 minutes
Serves: 10 burgers
Method
Peel the onion and garlic and blitz them in a food processor for 20 seconds.
Put all of the ground/minced beef into a bowl and combine them together. Then add all the other ingredients, season plentifully with salt & pepper and mix together thoroughly.
To shape the burgers, take a small handful of the mixture (about 120g), shape it into a ball and compact it by slapping it between your cupped hands in a clapping motion, alternating the mixture from one hand to the other. Flatten out the burger by continuing the clapping motion but flatten out your hands. You are aiming for a thickness of about 1cm and a diameter of about 15cm (the burgers will shrink during cooking by about one third). Alternatively, shape them anyway you like, so long as they are the right size and compact.
Put the burgers on a piece of cling-film/plastic-wrap on a chopping board and put them into the fridge for 20 minutes to set the shape.
Either pan fry, grill or barbeque the burgers over a medium-high heat for at least three minutes on each side until they have a good brown colour and are cooked all the way through (if you are grilling or barbequing the burgers, brush them with a little oil first).
Serve with all the usual burger accompaniments.
Back to top

Useful Information
Can it be frozen? Yes when raw, after stage 3.
Can it be prepared in advance? Yes, up to 2 days to stage 4.
Will leftovers be nice? Yes, for up to 3 days.
Notes
- Unlike, for example, a piece of steak, burgers made with shop-bought mince should be cooked all the way through (i.e. not pink in the middle). This is because ground/minced beef has a larger surface area for bacteria to grow on and can therefore survive in the middle of the burger, whereas the inside of a steak has not been exposed and only the outside (which gets cooked) can come into contact with bacteria. However, if you mince your own beef and use it straight away, it can be cooked so that it is slightly pink in the middle.
- This recipe will produce quite meaty burgers. If you want to lighten the burgers, simply add 2 heaped tablespoons of fresh bread-crumbs to the mix at the beginning.

Recipe Options